Geocell
GEOWEB

®

GeoCell Cellular Confinement Systems from Presto Geosystems

®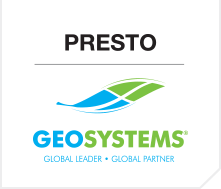 About Presto Geosystems

®

GEOWEB

®

Geocell
For the most advanced soil stabilization technology today, rely on the proven Presto GEOSYSTEMS® GEOWEB® Geocell system for solving challenging soil stability problems.
THE ORIGINAL CELLULAR CONFINEMENT SYSTEM
Presto GEOSYSTEMS® is the original developer of the geocell technology and leads the industry in research and development. The result is meaningful product improvements, innovative features, advanced engineering methodologies and provenGenuine field results that provide the most cost-effective and long-term solutions to soil stabilization problems. Innovations continue today to provide you with sustainable, high-performing and lowest-cost solutions.
HIGH-QUALITY PRODUCTS AND SOLUTIONS
With Presto GEOSYSTEMS®, you'll receive the same high quality products, solutions and support that you did over 30 years ago.GEOWEB® sections are manufactured from high-quality polyethylene to achieve consistent and maximum seam strength and overall system performance. Product quality is assured through the quality management system certified to ISO 9001:2008 International/Standards. The GEOWEB® system carries a CE marking based on conformance with EU harmonized standards.
HIGH PERFORMANCE SOIL STABILIZATION
The GEOWEB® system significantly improves the performance of soils by confining and stabilizing them in the system's highstrength network of interconnected cells. The 3D system is an economic and effective solution to challenging soil stability problems in load support, slope, channel, and shoreline protection, and vegetated retaining wall applications.
INFILL OPTIONS
A variety of infill materials can be used based upon details of the specific project/problem:

topsoil with various selected vegetation

aggregates from sand and gravel to larger rock or stone

concrete of various strengths and surface finishes

on-site available fill

combinations of the above to meet project conditions
PRESTO'S VALUE SERVICES
DESIGN SUPPORT: A complimentary project evaluation service is available to support your project designs.
CONSTRUCTION SUPPORT: Contractor training or site supervision is available to support your project installations.