Presto Geosystems GeoBlock Grass Pavers, 20" x 40"
Presto Geosystems GeoBlock Grass Pavers, 20" x 40"
Product Description
Presto Geosystems GeoBlock Grass Pavers, 20" x 40"
The industry's strongest and most proven, high-performance turf protection systems address all vehicle loading and stormwater requirements. The GEOBLOCK® & GEOBLOCK®5150 systems'
engineered base material supports loading up to H-20, is highly permeable to maximize stormwater percolation and, with topsoil infill, offers an optimal growing medium for vegetation. Control stormwater infiltration, manage runoff and create storage with porous pavements designed for every day traffic.
With highly-permeable open-graded aggregate infill, GEOPAVE pavers promote a high rate of percolation, limit runoff and perform as a natural on-site retention system. Herringbone cells and integrated mesh bottom keeps aggregate in place even under heavy traffic use. GEOPAVE porous pavements are the economical alternative to porous asphalt and pervious concrete.

Resistance to Torsional Loads
The rigid design with shared walls and strong interlocking connections resists movement or breakage from vehicle turning stresses and torsional loading.
Resistance to Rutting
Interconnected cell walls spread point loads across the paver system with minimal 'flexing', eliminating potential for concentrated drive lane rutting.
Turf Performance
Deep, interconnected cells protect topsoil and grass from damage caused by repeated loading. Topsoil infill supports healthy grass that establishes faster, remains hardier, and performs better than systems with sand infill. The engineered base material contributes to good percolation, healthy grass growth, and long-term performance.
Low Base Requirements
Strong unit strength lowers installation costs by requiring less base depth than lighter-weight or rolled systems to achieve H-20 loading.
Common Porous Pavement Applications
Access Roads: Emergency, Maintenance & Utility Vehicles
Roadways: Shoulders, Pull-off Areas
Parking Areas: Daily, Overflow
Trails & Walkways: Pedestrian Trails, Greenways, Barrier-Free Access
Golf Courses: Cart Pathways & Edging, Tee Areas
Residential: Driveways, Parking Areas, Camper & Boat Bays
General: Event Areas, Pedestrian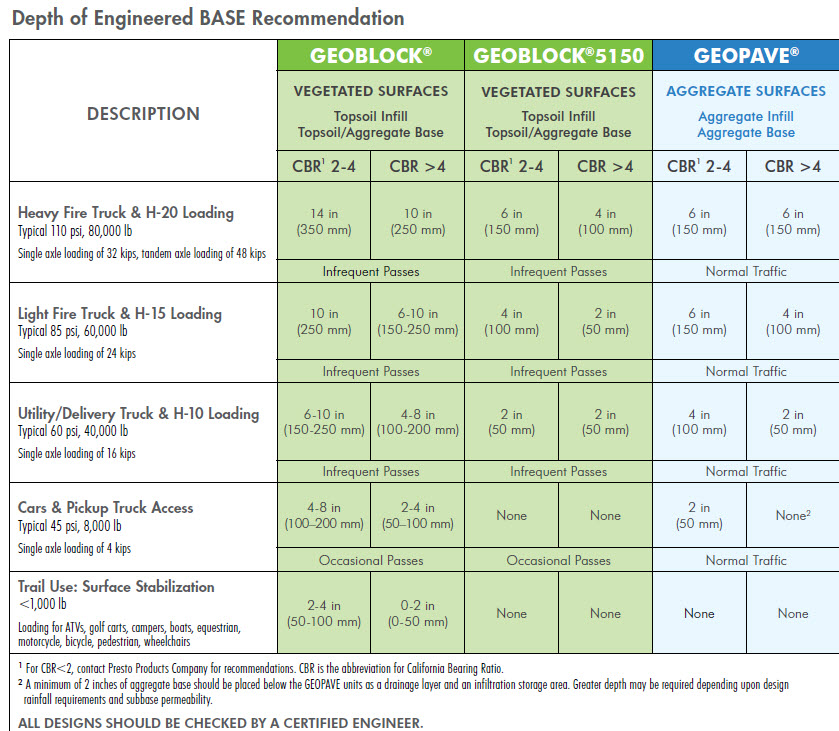 Find Similar Products by Category